CBD Honey
What is CBD Honey?
CBD honey is a natural sweetener infused with CBD, a non-psychoactive compound found in cannabis plants. CBD is known for its potential health benefits, including pain relief, anxiety reduction, and anti-inflammatory properties. When combined with honey, it can be a delicious and easy way to incorporate CBD into your daily routine.
Benefits
CBD honey can provide a variety of potential health benefits. The CBD in the honey may help to reduce anxiety and stress, alleviate pain and inflammation, and promote better sleep. Honey itself is known for its antioxidant properties and ability to soothe sore throats. Combining CBD with honey can provide a tasty and effective way to support your overall health and wellness.
How to Make CBD Honey
To make CBD honey at home, you will need CBD oil or tincture, and honey. Simply mix the desired amount of CBD oil or tincture into the honey and stir until well combined. It's important to use high-quality CBD oil or tincture to ensure the best possible results. Store the CBD honey in a cool, dry place and use as desired.
Dosage
The recommended dosage can vary depending on the individual and their specific needs. It's best to start with a small dose and gradually increase until the desired effect is achieved. It's also important to consult with a healthcare professional before adding CBD to your daily routine to ensure that it is safe for you to use.
Recipes
CBD honey can be used in a variety of recipes, from baked goods to salad dressings. Some popular options include adding it to tea or coffee, drizzling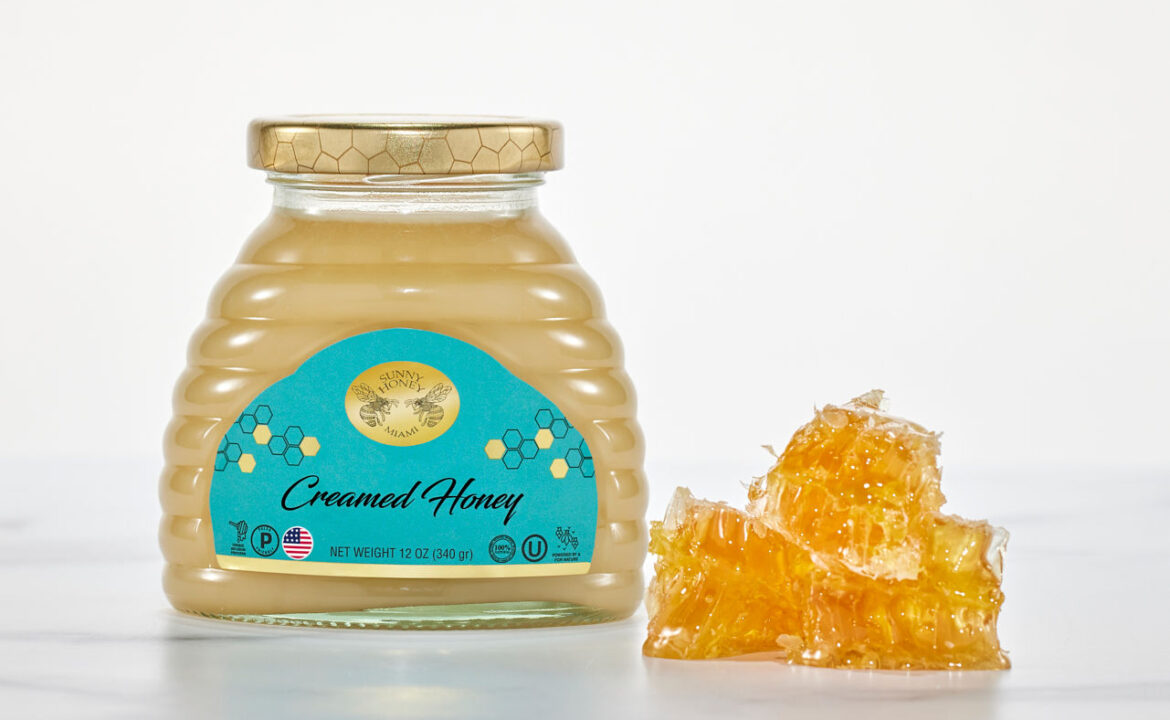 Whipped Honey: A Sweet and Spreadable Delight
Honey is a natural sweetener that has been used for centuries in cooking and baking. But have you ever heard of whipped honey? Also known as honey butter, it is a fluffy and spreadable form of honey. It is perfect for adding a touch of sweetness to your toast, bagel, or oatmeal. We will explore everything you need to know about it, including what it is, its benefits & how to make it.
What is Whipped Honey?
Whipped honey is honey that has been aerated by whipping it with a mixer until it becomes light and fluffy. This process creates a spreadable form of honey that is much easier to use than traditional, liquid honey. Unlike traditional honey, it does not run or drip, making it ideal for spreading on toast, bagels, or crackers.
Benefits:
Easier to spread: Whipped honey is much easier to spread than traditional, liquid honey. It has a lighter, fluffier texture that makes it ideal for spreading on bread, bagels, and crackers.
Natural sweetener: Whipped honey is made using only raw honey, making it a natural and healthier alternative to processed sugars and artificial sweeteners.
Longer shelf life: It can last up to a month in the refrigerator, making it a great option for those who want to have a natural sweetener on hand.
Versatile: Whipped honey can be used in a variety of ways, including as a topping for oatmeal, yogurt, or ice cream, or as a sweetener for tea and coffee.
How to Make It
Making it at home is incredibly simple and only requires two ingredients: raw honey and a mixer. Here is a step-by-step guide on how to make it:
Pour the raw honey into a large mixing bowl.

Begin to beat the honey on medium-high speed with a stand mixer or a hand mixer.

Continue to beat the honey until it becomes light and fluffy, about 3-5 minutes.

Transfer it into a container and store it in the refrigerator for up to a month.
Note: It will harden in the refrigerator, but it can be softened by heating it in a double boiler or in a warm water bath.
In conclusion, whipped honey is a delightful alternative to traditional honey. It is a natural sweetener that is easy to spread, versatile, and has a longer shelf life. Whether you're looking for a way to add a touch of sweetness to your toast or want to use it as a natural sweetener in your tea or coffee, this is a great option. So, go ahead and give it a try and see for yourself why it's quickly becoming a popular choice among health-conscious individuals.
Growing up in Communist Romania, Mihaela Gutman and her family lacked many basics.
Honey, however, was abundant.
"Honey was our dessert, our medicine, our everything," said Gutman, who now lives in South Beach. "We didn't have sugar; we didn't have anything. But we had honey. I grew up fascinated with bees."
Today, she is a nascent entrepreneur, having recently launched Sunny Honey Miami with her husband, Jorge Gutman, a Miami Beach contractor.
The company sells seven types of honey. But this is not the honey you squeeze out of a plastic bear. Imported from Canada, the honey is creamed and bottled in Florida, giving it a texture similar to crème brulée. The honey is flavored with vanilla, matcha, cacao, coconut, key lime or lavender for as long as two weeks. The company also sells a plain creamed honey, Gutman's favorite.
It's not cheap — $22.99 for a 12-ounce jar, sold on Sunny Honey's website and at My Deli Market on Brickell Bay Drive. They are also marketing it at specialty food shows.
They've sold about $50,000 since launching three months ago, says Jorge Gutman, adding they have seven employees.
"What they have done is a change in the industry," said Joaquin Mantovani, a honey importer in Florida who advises them.
Romanian roots
Gutman grew up in Romania in a family of beekeepers. When she was young, Romania was ruled by the dictator Nicolae Ceausescu, whose 22-year Communist rule was marked by killings of thousands of Romanians, drastic shortages of food and water and government corruption, including Ceausescu appointing his wife Elena as first deputy prime minister.
On Dec. 25, 1989 — after he and his wife were convicted of genocide in a military trial and sentenced to death — they were executed by firing squad. The northern part of Romania borders Ukraine.
Growing up, Gutman was told women didn't work, that their calling was in the home.
That changed when Gutman left Romania for the first time in 1994. At age 20, she was selected to represent Romania at the Miss Universe pageant in the Philippines. Seeing life outside of a Communist country opened her eyes.
"I decided I was going to travel the whole world," said Gutman, now 47.
Baker in Turks and Caicos
One of her stops was the Turks and Caicos, an archipelago southeast of the Bahamas in the Atlantic Ocean. In 2011, she was working in a bakery there when Jorge Gutman, vacationing in the islands, walked in.
"She walked out of the kitchen and I fell in love," he said. "For me, it was love at first sight."
Two years later, she moved to South Beach and the couple married. They bought a beehive for the backyard of their South Beach home, eventually leading them to create Sunny Honey. Gutman works full time at the business while her husband continues in real estate.
Gutman tested the recipes over three years, trying different honeys and infusing them with different flavors.
"What they have done is put a white gold on the shelf," Mantovani said, noting they use a rare white honey.
White honey, unlike amber honey, has a milky, custard-like color. Mantovani says the lighter the honey, the sweeter it is.
"If you try theirs and then you try a Publix honey, you will taste the difference. It's sweeter and not bitter."
Jesse Liebermann
Read the full article here: https://www.miamiherald.com/news/business/article256826967.html?fbclid=IwAR3_p3vAokHlKuqmR6kxC22fZi1JN5qHZ5pOFopNqfnmMJFjDnW7zVV6EYY