Honey Glazed Salmon Recipe
Honey-glazed salmon is a mouthwatering dish that combines the natural richness of salmon with the delightful sweetness of honey. The salmon fillets are marinated in a delectable blend of honey, soy sauce, ginger, and garlic, allowing the flavors to penetrate the flesh and infuse it with a tantalizing taste. When cooked to perfection, the salmon develops a gorgeous caramelized glaze that glistens with a glossy sheen. The honey glaze adds a delightful sweetness that complements the buttery, flaky texture of the salmon, creating a harmonious balance of flavors. Each bite offers a burst of succulent salmon coupled with the luscious sweetness of the glaze, making honey-glazed salmon a truly irresistible culinary delight. Whether served with a side of steamed vegetables, roasted potatoes, or a bed of fluffy rice, this dish is sure to impress both seafood enthusiasts and honey lovers alike.
Sweet, fresh, tasty and healthy, this honey glazed salmon recipe comes together in less than 20 minutes.
Ingredients for 4 servings
4 (6 oz each) Salmon filets

1/2 tsp kosher salt

1/2 tsp black pepper
Sauce
3 Tbsp butter

2 tsp olive oil

6 garlic cloves minced

1/2 cup

Key Lime Creamed Honey For Sale

3 Tbsp water

3 Tbsp soy sauce

1 Tbsp sriracha sauce

2 Tbsp lemon juice
Honey Glazed Salmon Instructions:
Pat salmon dry, then season with salt and pepper, set aside

Add butter and oil to a large skillet, over medium heat. Once butter is melted, add garlic, water, soy sauce, sriracha, honey and lemon juice, and cook for 30 seconds or so, until sauce is heated through.

Add salmon, skin side down and cook for 3 minutes. While salmon is cooking, baste frequently with sauce from the pan by spooning it over the top of the salmon.

You can broil the salmon for 5-6 minutes, basting with sauce during the broil, until salmon is caramelized and cooked as per your desired doneness.

Garnish with fresh parsley if desired.

Serve warm with a beautiful fresh salad.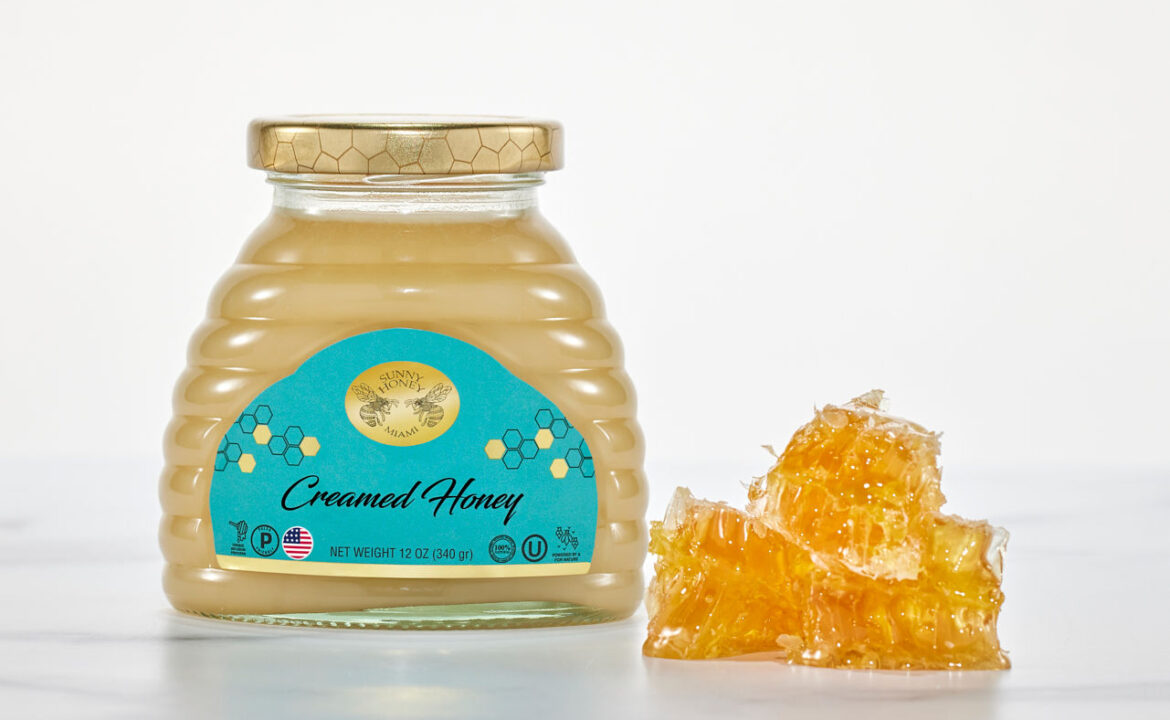 Whipped Honey: A Sweet and Spreadable Delight
Honey is a natural sweetener that has been used for centuries in cooking and baking. But have you ever heard of whipped honey? Also known as honey butter, it is a fluffy and spreadable form of honey. It is perfect for adding a touch of sweetness to your toast, bagel, or oatmeal. We will explore everything you need to know about it, including what it is, its benefits & how to make it.
What is Whipped Honey?
Whipped honey is honey that has been aerated by whipping it with a mixer until it becomes light and fluffy. This process creates a spreadable form of honey that is much easier to use than traditional, liquid honey. Unlike traditional honey, it does not run or drip, making it ideal for spreading on toast, bagels, or crackers.
Benefits:
Easier to spread: Whipped honey is much easier to spread than traditional, liquid honey. It has a lighter, fluffier texture that makes it ideal for spreading on bread, bagels, and crackers.
Natural sweetener: Whipped honey is made using only raw honey, making it a natural and healthier alternative to processed sugars and artificial sweeteners.
Longer shelf life: It can last up to a month in the refrigerator, making it a great option for those who want to have a natural sweetener on hand.
Versatile: Whipped honey can be used in a variety of ways, including as a topping for oatmeal, yogurt, or ice cream, or as a sweetener for tea and coffee.
How to Make It
Making it at home is incredibly simple and only requires two ingredients: raw honey and a mixer. Here is a step-by-step guide on how to make it:
Pour the raw honey into a large mixing bowl.

Begin to beat the honey on medium-high speed with a stand mixer or a hand mixer.

Continue to beat the honey until it becomes light and fluffy, about 3-5 minutes.

Transfer it into a container and store it in the refrigerator for up to a month.
Note: It will harden in the refrigerator, but it can be softened by heating it in a double boiler or in a warm water bath.
In conclusion, whipped honey is a delightful alternative to traditional honey. It is a natural sweetener that is easy to spread, versatile, and has a longer shelf life. Whether you're looking for a way to add a touch of sweetness to your toast or want to use it as a natural sweetener in your tea or coffee, this is a great option. So, go ahead and give it a try and see for yourself why it's quickly becoming a popular choice among health-conscious individuals.